BONDECK 680
Structural Decking and Ceiling System for Concrete Slabs
BONDECK 680
BONDECK 680 Structural steel decking is an efficient, versatile and robust structural decking and ceiling system for concrete slabs. It is a highly regarded formwork product offering efficiency and speed of construction. The steel conforms to AS 1397  and grade G550. 
The Features and advantages of using BONDECK 680 are:
Quick and easy construction
Safe working platform
High structural efficiency due to high strength steel used
Stiffens supporting frame in tall steel buildings
Excellent spanning capacities for greater strength and less deflection
Act as a permanent formwork with minimal propping and no stripping of formwork face is required
Works as composite slab saving on concrete and reinforcement costs
Advanced design for fire resistance
Can be used on steelwork, concrete, block work and masonry structures
Backed by supplier's warranty
BONDECK 680 is recommended to be used for:
Concrete frame building

Residential construction
Multi-level car parks and multi-storey building
Commercial building
Shopping Centre
Storage Levels
Form/Shuttering/Slab Span Table
---
BONDECK 680 sheets continuous over two slab
Formwork deflection limit L/240 (or<30mm) visual appearance important
BONDECK 680 sheets continuous over two slab
Formwork deflection limit L/130 (or<30mm) visual appearance not important
Formwork/Shuttering/Slab Span Table
---
BON DECK 680 sheets continuous over three or more slab span
Formwork deflection limit L/240 (or<30mm) visual appearance important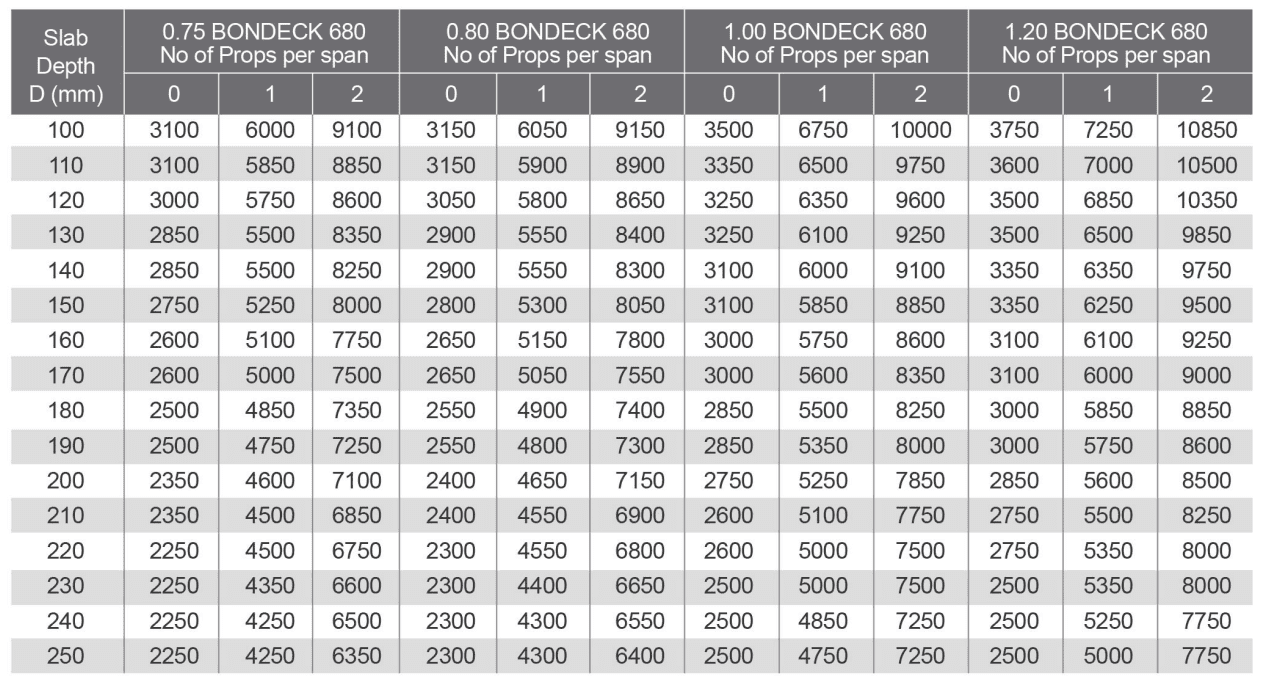 BON DECK 680 sheets continuous over three or more span slab
Formwork deflection limit L/130 (or<30mm) visual appearance not important
Note: The spanning table above are based on the following assumptions and constraints:
Density of concrete is assumed at 2400kg/m3.
The sheets shall be fully supported across the full width and shall have a minimum bearing 50mm at the end of the sheets and 100mm at intermediate support over which sheeting is continuous.
Construction load of 1.5kPa is assumed.
Deflection limit of Span/130.
Ceiling Suspension System
---
A heavy duty square nut adhered to a paper strip to allow easy insertion from below into Astino Bondeck 680. Threaded rods may be then screws into Bondeck 680 and locked into position.
The nut is available in three convenient thread sizes (M8, M10 and M12), and may be used to support threaded rods for various services and suspended ceilings.
Bondeck 680 is available in long length, so large areas can be quickly and easily covered to form a safe working platform during construction. This formwork gives immediate protection from weather, and safe to people working on the floor below.
Bondeck 680 panels are delivered to site in strapped bundles. Bundles should be neatly stacked with a slight slope to allow drainage of water and protected by waterproof covers if not immediately used. Ensures no water to be trapped between panels.
Temporary propping may be needed between the slab supports to prevent excessive deflections or collapse of the formwork.
Bondeck 680 formwork is normally placed directly on prepared propping. Props must stay in place during the laying of Bondeck 680 formwork, the placement of the concrete , and until the concrete has reached the strength of 20 MPa.
Propping generally consists of substantial timber or steel bearers supported by vertical props. The bearers must be continuous across the full width of Bondeck 680 formwork.
Concrete should be poured in the same direction as the span of the decking and placed first over the supports where the decking is continuous, followed by the mid span region and finally the areas above the end supports.
When concrete is being poured transversely to the decking ribs, it should be placed first at the edge where a decking sheet is supported by the under lap of an adjacent sheet. This will ensure the longitudinal seams between sheets remain closed.
When a steel deck composite slab is to be poured in conjunction with a band beam, Contractors need to ensure that the temporary ply is positioned.
Overlapping ribs of Bondeck 680 sheeting are interlocked. Either of two methods can be used in most situations, though variations may also work.
In the first method, lay adjacent sheets loosely in place. Place the female lap rib overlapping the male lap rib of the previous sheet and apply foot pressure, or a light kick, to the female lap rib.
In the second method, offer a new sheet at an angle to one previously laid, and then simply lower it down, through an arc. If sheets don't interlock neatly (perhaps due to some damage or distortion from site handling or construction practices) use screws to pull the laps together tightly.
Bondeck 680 must be laid with the sheeting ribs aligned in the direction of the designed spans. Other details include the following:
The slab supports must be prepared for bearing and slip joints as required.
Lay Bondeck 680 sheets continuously over each slab span without any intermediate splicing or jointing.
Lay Bondeck 680 sheets end to end. Centralise the joint at the slab supports. Where jointing material is required the sheets may be butted against the jointing material.
Support Bondeck 680 sheets across their full width at the slab support lines and at the propping support lines.
For the supports to carry the wet concrete and construction loads, the minimum bearing is 50mm for ends of Bondeck 680 sheets, and 100mm for intermediate supports over which the sheeting is continuous.
In exposed applications, treat the end and edges of the Bondeck 680 sheets with a suitable edge treatment to prevent entry of moisture.
Bondeck 680 sheeting must be positively fixed to the supporting structure in order to avoid movement and excessive deflection during the pouring of concrete.
When fixing to a steelwork support structure, spot welds, shot fired pins or self-drilling/ tapping fasteners should be used.
Get in Touch
---
Have questions about our top quality products or professional services? Interested in becoming our valued partner or customer? Simply drop us a line here and we will get back to you as soon as possible.
Contact Us